A team from DCC Energy LPG, including Managing Director of the division, Henry Cubbon, attended the event to network with various stakeholders in the industry, attend high quality information sessions and the major global exhibition of equipment suppliers and industry players.
Henry also took the opportunity to chair an informative and important panel discussion on Health and Safety in the industry entitled 'Safety is no Accident'.
Delegates from Coral Gas, Origin and Oryx took part. The key messages conveyed through the excellent presentations included HSE Leadership, safety by choice, culture change, commitment, attitude, engage and lead, and walk the talk. These messages were common across all three continents demonstrating that good HSE performance equally demonstrates good business performance.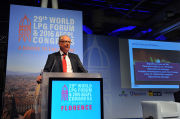 Many thanks to the organisers from the WLPGA and AEGPL, and the valued sponsors of the event.