On Monday 23rd-25th November DCC Energy LPG attended the Argus European Market event which brings together key market participants in the LPG sector.
The event was held in Le Meridien hotel in Piccadilly, London, and was sponsored by Sibur.
Traders, producers, importers and LPG marketing and distribution companies benefitted from extensive networking and hearing about updates and developments in the market.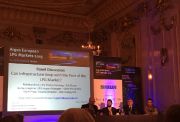 DCC Energy LPG was lucky enough to be asked to present at the event, and our Finance Director Mark Plyte gave a rousing presentation about the challenges and opportunities that our industry faces. He discussed the opportunities that could be developed on, in particular the Autogas market, and outlined some other applications that distributors should explore when looking for new consumers.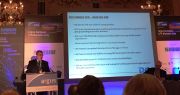 Following the presentation, Mark also took part in a panel to discuss the infrastructural shortfalls that Europe is facing in regards to the transportation of LPG. This panel gave the audience a chance to contribute and share challenges or ideas that they had identified themselves.
To learn more about Argus please click here.
Many thanks to Argus for extending the invite and for organising such an informative itinerary.