MD of DCC Energy LPG, Henry Cubbon, attended the event and took part in the WLPGA Matrix Day to discuss the Associations four main Goals. Henry was pleased to chair the discussion on Goal A: Communications.
The conference was based around the theme 'Emerging Trends' which was especially appropriate given the growing trend of LPG consumption that the Indian market is experiencing. We were very interested to learn more about the government initiatives that have helped to boost the industry.
We would like to thank the WLPGA and the Indian participants for their warm welcome.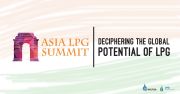 More information on the conference can be found here.