DCC LPG attended the AEGPL Lisbon conference as Platinum sponsors this year, and we got fully involved in all aspects of the event. The well-planned event was held in the Congress Centre in Lisbon, and had a wide range of exhibitors and conference speakers. Among those speakers were our own Managing Director, Henry Cubbon, and our Sales Director from Flogas Scandinavia, Thomas Edvardsen.
Henry took part in a rountable with the title 'What is the Market telling us?'. This raised some great discussion on the forecast for supply and demand and allowed the audience to understand the view of major distributors in the market.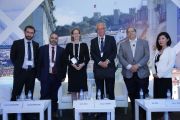 Thomas on the otherhand, presented on 'What can Renewables bring to LPG'. He illustrated the use of renewables in the two different markets of Norway and Sweden, including the 'green' ambitions of each market. He also managed to boost the future tourism of Norway with his beautiful pictures and slides!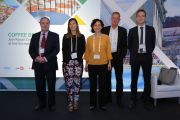 Overall, it was an exceptional event. Many thanks to the AEGPL for organising such an information agenda. More information on the event can be found here.