LPG is the fuel of the Olympic flame, which has now arrived in Brazil and will pass through 329 cities in all Brazilian states over 95 days.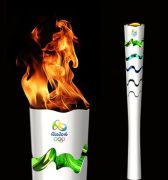 An article published by the magazine Superinteressante, explained that inside the torch, there is a cylinder holding 60 grams of LPG, able to keep the fire burning for up to 18 minutes. A button turns on and off at the base of the torch, triggers the release of the fuel that feeds the flame.

On August 5th, the fire triggers the Olympic pyre, which will be lit at the world famous Maracanã Stadium until 21st August.
You can follow the Olympic torch here https://www.rio2016.com/en/olympic-torch-relay