Philip, 95, took delivery of the gas-powered Metrocab in 1999 and used the vehicle for engagements in London, allowing him to travel around the city unnoticed.
The Sandringham Museum has announced that the car will feature in its upcoming exhibition. A newsletter on its website said: "Also in the Museum there will be a new vehicle on display this year; HRH The Duke of Edinburgh's taxi, which he used for travelling to both official and private engagements in London, has arrived at Sandringham and has been added to the display in the Royal Garages."
The Metrocab, a liquefied petroleum gas-powered car, was the only one of its type in the world in 1999, and was best known for its use as the new style of black cab in London and other big cities. Shortly before the vehicle was delivered, the Queen and her husband were taken for a spin in a converted environmentally friendly gas-powered taxi.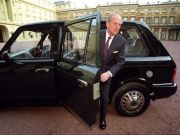 The Duke is no stranger to the driving seat, and was seen with very famous passengers in a Range Rover less than a year ago.
Philip showed the former US President Barack Obama and his wife Michelle the personal touch when he drove them and the Queen to Windsor Castle after the Marine One presidential helicopter had landed close to the monarch's Berkshire home during their visit to the UK in April 2016.
Sandringham Museum and Gardens will be open from April 1. More information can be found here.